1 Peter 2:1-10    Click here for Bible Verses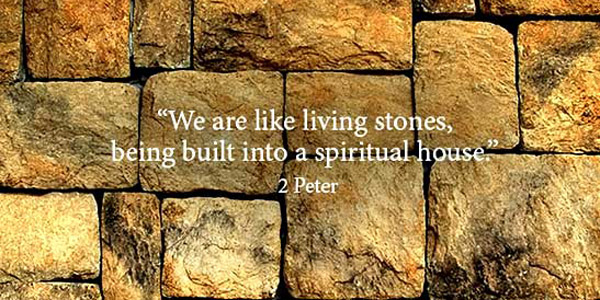 Hi GAMErs,
Today's passage is 1 Peter 2:1-10.  Let's go!
1 Peter 2:1 (NIV) 
1  Therefore, rid yourselves of all malice and all deceit, hypocrisy, envy, and slander of every kind.
On verse 1:  Here's a Bible reading tip: whenever you see the word "therefore", look at the verses just before "therefore".  Then you can better know what the "therefore" is there for.  In this case, just before verse 1, Peter has been telling his readers to "love each other deeply from the heart, since you have been born again by the imperishable word of God" (1 Peter 1:22-25).  So it is with the goal of loving each other deeply that Peter tells his readers to rid themselves of all malice, deceit, hypocrisy, envy, and slander of every kind.
What can we learn from this?  We need to be intentional about getting rid of malice, deceit, hypocrisy, envy and slander, for love cannot co-exist with these things.  Think of a relationship in your life today that you wish was in a better place.  Have you allowed malice (mean, judgmental thoughts), deceit (lying or trickery), hypocrisy (saying one thing but doing another), envy (being resentful because someone else has what you don't have) or slander (speaking ill about that person in front of others) to poison that relationship?  If so, you need to confess that sin to God, receive His forgiveness, and be intentional about doing the opposite from now on.  Instead of thinking malicious thoughts about that person, believe the best in that person.  Instead of being deceitful, speak the truth in love.  Instead of envying the person, celebrate with that person.  Instead of slandering that person, speak well of that person in front of others.  When you do these things, you allow deep and pure love to fill that relationship in a fresh way.
1 Peter 2:2 (NIV) 
2  Like newborn babies, crave pure spiritual milk, so that by it you may grow up in your salvation,
On verse 2:  What is the "pure spiritual milk" that Peter tells us to crave?  It's the Word of God.  You cannot grow spiritually apart from the Word of God.  The Word of God is not just the imperishable seed by which we are born again spiritually (see 1 Peter 1:23).  The Word of God is also the pure spiritual milk by which we grow up spiritually.
Also, keep in mind the connection between verses 1 and 2.  Peter is saying, "Therefore, getting rid of all malice, deceit, hypocrisy, envy and slander, like newborn babies crave pure spiritual milk".  In other words, as long as you have malice, deceit, hypocrisy, envy or slander in your life, not only will these things keep you from loving others deeply, but they will also spoil your craving for God's Word.  The more you get rid of the former, the more you will crave the latter.  So if you want to increase your appetite for the pure milk that is God's Word, you need to cut out the junk food called malice, deceit, hypocrisy, envy and slander from your spiritual diet.
1 Peter 2:3 (NIV) 
3  now that you have tasted that the Lord is good.
On verse 3:  From this verse I learn two lessons:
God is a God you were made to experience.  Psalm 34:8 invites us to "taste and see that the Lord is good".
Every believer has tasted that the Lord is good.  It is the taste of God's goodness that brings us to Him in the first place.  But whether or not a believer grows spiritually will depend not on that initial taste of God but how much they continue to feed on God's Word after that initial taste.  If you do not discipline yourself to feed on God's Word, you will inevitably stunt your growth as a Christian.
1 Peter 2:4 (NIV) 
4  As you come to him, the living Stone–rejected by men but chosen by God and precious to him—
On verse 4, 6-8:  Earlier in chapter 1, Peter gave us his first big picture of Jesus as the precious lamb of God, without blemish or defect, whose "precious blood" has redeemed us from our sins (1 Peter 1:19).  Here in this verse we are given a second big picture of Jesus, this time of Him as a precious stone.  Peter uses the word "precious" three times – in verses 4, 6 and 7 – to describe the kind of rock that Jesus Christ is in our lives.  Building on Old Testament motifs found in Psalm 118 (see verse 7) and Isaiah (see verse 6 and 8), Peter describes Jesus as the cornerstone, who, like Peter's readers, was rejected but who has become the most important rock on which the whole building of God's house rests upon.  Jesus is the cornerstone of our lives and the cornerstone of God's kingdom.  The most precious stone you can ever receive is not an engagement ring or a hall of fame ring; it's Jesus Christ.  Without Him, our lives and God's kingdom simply would not be possible.
1 Peter 2:5 (NIV) 
5  you also, like living stones, are being built into a spiritual house to be a holy priesthood, offering spiritual sacrifices acceptable to God through Jesus Christ.
On verse 5:  This is one of the most important truths you will find in the New Testament: when we come to Jesus, the living Stone, we ourselves become like living stones which God uses to build His kingdom.  In other words, you are not just a believer or a child of God.  Even more, you are a rock on which God is building His church.  In fact, God gave you your talents, skills, passions, dreams, personality and experiences specifically because He envisioned using them all to build His church.  You are a precious living stone, custom-made for building God's kingdom.
1 Peter 2:9-10 (NIV) 
9  But you are a chosen people, a royal priesthood, a holy nation, a people belonging to God, that you may declare the praises of him who called you out of darkness into his wonderful light.
10  Once you were not a people, but now you are the people of God; once you had not received mercy, but now you have received mercy.

On verses 9-10:  Chosen, royal, holy, belonging to God, and forgiven – that is who you are in Christ.  Together we are royal priests in God's house, a holy nation, a chosen people, made to receive God's mercy and destined to declare God's praises.  If you want to know who you are in Christ, 1 Peter is one of the best books in the Bible you can possibly study.
Lord Jesus, I praise You who for being the precious cornerstone of my life and my church.  Thank You for calling me a stone on which You will build Your church as well.  Help me to get rid of all malice, deceit, hypocrisy, envy and slander, so that I can love my spiritual family well, crave the pure spiritual milk of Your Word, and grow up into the priest and leader You made me to be in Your kingdom.  In Jesus' name, AMEN!