2 Kings 18:1-16  Click here for Bible Verses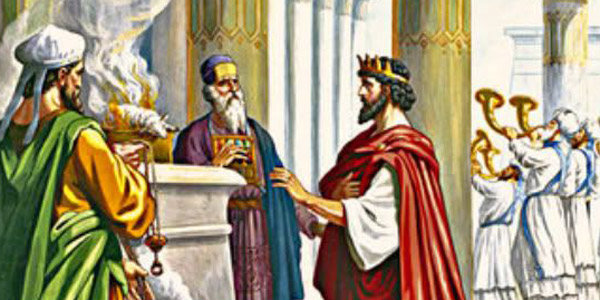 Hi GAMErs,
Today's passage is 2 Kings 18:1-16.  Let's go!
On verses 1-16:  After Judah had been led by a handful of spiritually rotten, idol-worshiping kings, Hezekiah bursts onto the scene.  Hezekiah courageously breaks with his predecessors' idol worshiping traditions.  He begins to use his authority as king of Judah to remove idolatry from his land.  Hezekiah also courageously stands up to the king of Assyria, even while Hezekiah's counterpart Hoshea king of Israel was being defeated by Assyria.  When Assyria turns its attention to attacking and capturing all of Judah, Hezekiah stands in the gap and offers whatever we can to stop Judah from being completely taken over.
What can we learn from this?   Our world is in need of courageous leaders like Hezekiah — people who trust in the Lord no matter what, who aren't afraid to break with the idol-worshiping traditions of those who came before them and those around them, and who will stand up to the enemy and fight to protect the people in their care.  Because of Hezekiah's courage and how he hung onto God no matter what, verses 5-7 honour him with these words:
2 Kings 18:5-7 (NIV) 
5  Hezekiah trusted in the LORD, the God of Israel. There was no one like him among all the kings of Judah, either before him or after him.
6  He held fast to the LORD and did not cease to follow him; he kept the commands the LORD had given Moses.
7  And the LORD was with him; he was successful in whatever he undertook. He rebelled against the king of Assyria and did not serve him. 

As it was said of Hezekiah, may it be said of you that you trusted the Lord, that you took on and take down the idol-worshiping tendencies that may have been passed down to you, that you held fast to Him no matter what, and that you weren't afraid to stand up to the enemy and fight for those in your care.  May you be a modern day Hezekiah who puts God first and sees God move in powerful ways.
Heavenly Father, please give me courage like Hezekiah to stand up to the enemy and any idol-worshiping traditions that have been passed down to me.  May I be courageous like Hezekiah, not fearing the enemy but trusting You wholeheartedly and serving You well in my generation.  In Jesus' name, AMEN!