2 Peter 3:10-18  Click here for Bible Verses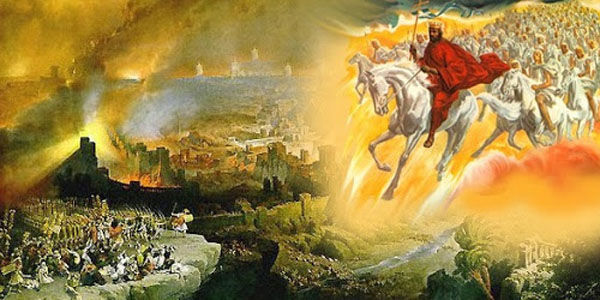 Hi GAMErs,
Today's passage is 2 Peter 3:10-18.  Let's go!
2 Peter 3:10-14 (NIV) 
10  But the day of the Lord will come like a thief. The heavens will disappear with a roar; the elements will be destroyed by fire, and the earth and everything in it will be laid bare.
11  Since everything will be destroyed in this way, what kind of people ought you to be? You ought to live holy and godly lives
12  as you look forward to the day of God and speed its coming. That day will bring about the destruction of the heavens by fire, and the elements will melt in the heat.
13  But in keeping with his promise we are looking forward to a new heaven and a new earth, the home of righteousness.
14  So then, dear friends, since you are looking forward to this, make every effort to be found spotless, blameless and at peace with him.
On verses 10-14:  In these verses Peter is talking about "the day of the Lord" (v1)?  The "day of the Lord" is a term found in both the Old Testament and the New Testament.  It refers to the end times, or more specifically as we see in the New Testament, the time when Jesus will return to earth, physically raise Christians who have died back to life, gather His people, establish His kingdom and issue His final judgment on those who have rejected Him.  For this reason the New Testament writers sometimes refer to the day of the Lord as the day of Christ (1 Corinthians 1:8; 2 Corinthians 1:14; Philippians 1;6, 10; 2:16).  Verses 10 through 13 and other passages also tell us that the day of the Lord will be accompanied by the catastrophic destruction of the earth and its atmosphere as we know it, and the creation of a new heaven and a new earth.  What can we learn from this? Jesus is coming back, and His return will change life on this planet as we know it. 
When Peter says in verse 10 that the day of the Lord will "come like a thief", he means that the day Jesus returns will come when people don't expect it.  Paul talks about this too (for example, see 1 Thessalonians 5:2).  Jesus also uses the same thief imagery in Matthew 24:42-44:
42  "…keep watch, because you do not know on what day your Lord will come.
43  But understand this: If the owner of the house had known at what time of night the thief was coming, he would have kept watch and would not have let his house be broken into.
44  So you also must be ready, because the Son of Man will come at an hour when you do not expect him.
The day of the Lord will be both dreadful and joyful – dreadful for unbelievers because they will face their final judgment, and joyful for believers because we will get to see our Saviour Jesus face to face.  So what is the best way to get ready for the day of the Lord?  Because the day of the Lord is coming, keep placing your faith and hope in Jesus, and keep living for Jesus, who alone makes us "spotless, blameless and at peace with Him" (v14).
2 Peter 3:15-16 (NIV) 
15  Bear in mind that our Lord's patience means salvation, just as our dear brother Paul also wrote you with the wisdom that God gave him.
16  He writes the same way in all his letters, speaking in them of these matters. His letters contain some things that are hard to understand, which ignorant and unstable people distort, as they do the other Scriptures, to their own destruction.
On verses 15-16:  Here are some lessons I learn from these verses:
1.God's "patience means salvation" (v15).  Peter once again reminds us that the reason Jesus has not yet returned is because God is patient with human beings, "not wanting anyone to perish, but everyone to come to repentance" (v9).  By sending Jesus Christ to die for our sins, God has done everything He can do to save us so that we can be with Him.  Now He patiently waits for us to receive that gift of salvation before it is too late.
2.Notice what Peter says about his contemporary Paul.  First, Peter says that the content of his letters is consistent with what Paul writes in Paul's letters.  I love how Peter does not see Paul as a competitor but as a teammate, both of them working for the same purpose of leading people to Jesus.  What can we learn from this? The kingdom of God is a team sport.  We are to see each other not as competitors but as teammates working toward the same purpose.  
Second, notice one more thing Peter says about Paul's letters: Peter says that ignorant and unstable people distort Paul's letters "as they do the other Scriptures" (v16).  What does that tell us?  According to Peter, Paul's letters are God's Word and holy Scripture. Peter recognized that God was speaking through his teammate and contemporary Paul.  This is further evidence that the early church treated the letters of the apostles to be God's Word and holy Scripture, and so can we today.
2 Peter 3:17-18 (NIV) 
17  Therefore, dear friends, since you already know this, be on your guard so that you may not be carried away by the error of lawless men and fall from your secure position.
18  But grow in the grace and knowledge of our Lord and Savior Jesus Christ. To him be glory both now and forever! Amen.
On verses 17-18:  These two verses show us two options we have as Christians: either we can be on our guard and grow spiritually, or we can get carried away by error and fall away from faith.  There is no real in between.  Practically speaking in my own life I find that there's no such thing as "staying the same spiritually".  Every day I'm either drawing closer to Jesus or I'm falling further away.  Either I grow or die, so to speak.
Finally, the fact that Peter tells us to "grow in the grace and knowledge of our Lord and Saviour Jesus Christ" (v18) tells me that we can choose whether we grow spiritually or not.  Spiritual growth is not a process that is beyond our control or the result of mere luck, circumstances or the right environment.  Even more spiritual growth is about the choice we make in the heart to keep pursuing Jesus every day, regardless of how we feel.  When we take up our cross and follow Jesus daily, that's when we grow.
Lord Jesus, because You are coming soon, may I live each day ready and waiting for You.  May I make every effort to be found in You and not in error, for only in You am I blameless, spotless and at peace.  Thank You that growing in You is possible, and that it happens when I make the choice each day to follow You.  In Jesus' name, AMEN!
This brings our look at 2 Peter to a close.  Take a minute, look back and review the most important lessons you learned from this short book.  As you recall each lesson, turn it into a short prayer to God.