John 10:22-30 Click here for Bible Verses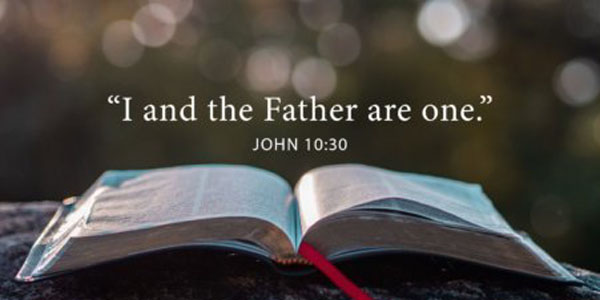 Hi GAMErs,
Today's passage is John 10:22-30.  Let's go!
John 10:22-23 (NIV) 
22  Then came the Feast of Dedication at Jerusalem. It was winter,
23  and Jesus was in the temple area walking in Solomon's Colonnade.
On verses 22-23:  The Feast of Dedication was a relatively new festival that the Jews first began celebrating in 164 B.C. to commemorate the reconstruction and rededication of the temple in Jerusalem by Judas Maccabeus in 165 B.C. after it was destroyed by the Syrian ruler Antiochus Epiphanes in 168 B.C.  This Feast of Dedication involves a celebration of lights and is now more commonly known as Hanukkah, a festival that Jewish people continue to celebrate to this day.  During Jesus' time on earth, whenever the Feast of Dedication was celebrated, there was an undercurrent of hope among the Jews that the Messiah would arrive at the temple and begin establishing Israel as an independent nation.  It is in this context that the Jews surround Jesus as he is walking in the temple area in Solomon's Colonnade during the Feast of Dedication.
John 10:24-27 (NIV) 
24  The Jews gathered around him, saying, "How long will you keep us in suspense? If you are the Christ, tell us plainly."
25  Jesus answered, "I did tell you, but you do not believe. The miracles I do in my Father's name speak for me,
26  but you do not believe because you are not my sheep.
27  My sheep listen to my voice; I know them, and they follow me.
On verses 24-27:  Jesus was famous for speaking in parables and using figures of speech to illustrate the truths he was teaching about himself.  Some in the audience would get it and understand what Jesus meant, realizing both from his words and from his miracles that truly Jesus is the Messiah.  Others, however, didn't get it.  Jesus saw this as a way to distinguish those who believed and belonged to him from those who did not believe and did not belong to him.  (See for example Luke 8:10.)
When you consider the miracles that Jesus performed and the words that Jesus spoke, who do you think Jesus is?  Is he the Son of God as he claims to be and the saviour king (the Messiah) that the Jews have been waiting for?  Or is he someone else or something else?  Your answer to this question, Jesus says, will reveal whether you belong to Jesus or not.
John 10:28-30 (NIV) 
28  I give them eternal life, and they shall never perish; no one can snatch them out of my hand.
29  My Father, who has given them to me, is greater than all; no one can snatch them out of my Father's hand.
30  I and the Father are one."
On verses 28-30:  Here we learn some valuable truths:
1.     Jesus is the giver of eternal life, meaning that even after we die physically, we will live on with God forever.  You can't get eternal life from anywhere else or from anyone else.
2.     How do you receive eternal life?  By placing your life in Jesus' hand and trusting Jesus to save you from your sins.  When you do this, you are now safely and forever in Jesus' hand and no one can snatch you out of his hand (v28).   That's how secure your salvation is.  The only way to lose your salvation is for you to jump out of Jesus' hand yourself by intentionally, consciously and repeatedly renouncing and denying your faith in Jesus Christ, also known as apostacy (Hebrews 6:4-6; Matthew 12:31-32; 2 Timothy 2:12).
3.     Jesus and the Father are one.  According to some scholars, Jesus and the Father being one is referring to the fact that Jesus and the Father are united in their purpose. They are both intent on saving and protecting Jesus' sheep.  Pastor Jon Courson gives this illustration: just as a child might cross the street holding their mommy and daddy's hand, so we cross from death to life while holding in one hand the Father and holding in the other hand Jesus the Son.  Elsewhere in the Gospel of John and in the New Testament, we learn that Jesus and the Father are not just unified in purpose, but that indeed, Jesus is God, and that the God the Father and Jesus the Son are two persons of the Trinity.
Jesus, You are the giver of eternal life.  Thank You that when I place my life in Your hands, trusting in You to save me, no one can snatch me away from You.  Thank You that You are the Messiah that the Jews have been waiting for, the Saviour whom we all need, and the Son of God who gives eternal life.  In Jesus' name, AMEN!