Luke 8:26-39 Click here for Bible Verses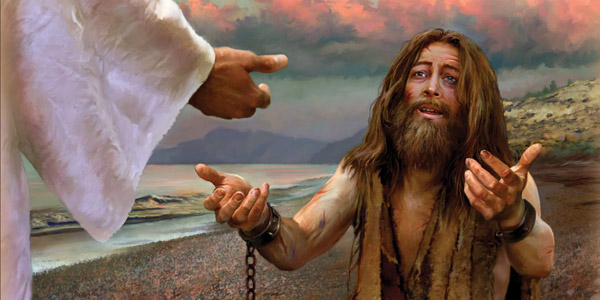 Hi GAMErs,
Today's passage is Luke 8:26-39.  Let's go!
Luke 8:26-33 (NIV) 
26  They sailed to the region of the Gerasenes, which is across the lake from Galilee.
27  When Jesus stepped ashore, he was met by a demon-possessed man from the town. For a long time this man had not worn clothes or lived in a house, but had lived in the tombs.
28  When he saw Jesus, he cried out and fell at his feet, shouting at the top of his voice, "What do you want with me, Jesus, Son of the Most High God? I beg you, don't torture me!"
29  For Jesus had commanded the evil spirit to come out of the man. Many times it had seized him, and though he was chained hand and foot and kept under guard, he had broken his chains and had been driven by the demon into solitary places.
30  Jesus asked him, "What is your name?" "Legion," he replied, because many demons had gone into him.
31  And they begged him repeatedly not to order them to go into the Abyss.
32  A large herd of pigs was feeding there on the hillside. The demons begged Jesus to let them go into them, and he gave them permission.
33  When the demons came out of the man, they went into the pigs, and the herd rushed down the steep bank into the lake and was drowned.

On verses 26-33:  Here Jesus delivers a demon-possessed man in a most astounding way, by allowing the demons that once possessed him to go into a herd of pigs who then rush into a lake and drown.
What can we learn from this?
Jesus has authority over demons and over nature.  Even evil spirits must obey Jesus' commands.
Do not formally or informally welcome Satan into your life, for in doing so you are only giving him permission to kill, steal and destroy your life.   As Jesus says in John 10:10, "The thief [that is, Satan] comes only to steal and kill and destroy; I have come that they may have life, and have it to the full."
Just as this demon-possessed man cried out for help when he saw Jesus, when you have a spiritual problem that you can't solve, the best thing you can do is to ask Jesus for help.  Practically speaking that may include telling another Christian you trust about your struggle so that you can be set free.
Luke 8:34-37 (NIV) 
34  When those tending the pigs saw what had happened, they ran off and reported this in the town and countryside,
35  and the people went out to see what had happened. When they came to Jesus, they found the man from whom the demons had gone out, sitting at Jesus' feet, dressed and in his right mind; and they were afraid.
36  Those who had seen it told the people how the demon-possessed man had been cured.
37  Then all the people of the region of the Gerasenes asked Jesus to leave them, because they were overcome with fear. So he got into the boat and left. 
On verse 37: The people in the region of the Gerasenes asked Jesus to leave them because "they were afraid" (v35).   Having seen what happened to the herd of pigs, perhaps they feared that their livestock-based businesses would be negatively affected if Jesus stayed. Or perhaps it was a fear of the unknown and what other strange things might happen if Jesus stayed.
What can we learn from this?
Notice that Jesus left when the people asked him to leave.  Jesus will not insist on staying if you tell him to leave.  While he may not agree with our choices, he respects our choices.
While it is natural to feel hesitant and even fearful about what we don't know, don't let fear cause you to push Jesus away. You don't need to be afraid of Jesus and the work He wants to do in your life.  Jesus loves you and is committed to doing only what will bring good and benefit in and through your life.  What you lose for Jesus will never compare to what you gain with Him.
I bet the region of the Garasenes had other people who were demon possessed, spiritually oppressed or otherwise in need of healing.  However, the people of the Garasenes pushed Jesus away, preferring the status quo and preventing hurting people in their community from getting the help they need.  When we push Jesus away, we forfeit the great work that God could otherwise do in and through our lives.
Luke 8:38-39 (NIV) 
38  The man from whom the demons had gone out begged to go with him, but Jesus sent him away, saying,
39  "Return home and tell how much God has done for you." So the man went away and told all over town how much Jesus had done for him.

On verses 38-39: The man whom Jesus had delivered begged to go with Jesus, but Jesus had different plans for him. Instead of letting the man go with him, Jesus asked the man to stay and spread the word about Him on His behalf.
What can we learn from this?
When you pray for a door to open and God's answer is no, it's not because God is cruel; rather it's because God has a greater plan.
God is in the business of sending people to places in this world where the name of Jesus is not welcome, so that they can speak on His behalf and lead people to Him.   I believe God has called you to be His representative, to go to places where His name is not yet known and to tell about how much He has done for you.  Those places could include your own home, family, school, workplace, or somewhere further away. May God give you courage and wisdom to be an effective witness for Him wherever He calls you to go.
This passage also reminds me that we should be praying for Christian missionaries who have gone to hard-to-access places to bring the gospel of Jesus Christ to those in need of hope, peace and deliverance.
Lord Jesus, whereas the thief comes only to steal, kill and destroy, thank You that You have come to bring us life to the full and to deliver us from every type of bondage.  Today I pray for those in my circles of influence who don't yet know You.  Please help me to be an effective witness to them.  I also pray for those who have gone to hard to reach places to share You with others.  Please give them courage and strength in this season.  In Jesus' name, AMEN!